What Our Patients Like Most About Our Pharmacy
We would love your feedback! Please let us know how we are doing and leave us a review below.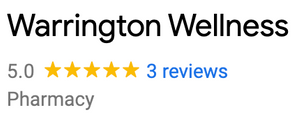 "Top notch pharmacy. Very knowledgeable and willing to help. Skip the loyalty card chaos and go local. This place has what you need without the endless aisles of "sale" items. Good prices and he can work with your doctor to make custom medications if you need it."
"Known Dr Yambao for a long time, when we found out he was opening up his own pharmacy we had to follow and bring our prescription there. We know he cares and is so knowledgeable. He doesn't just dispense medication, he educates you to make sure you understand. With something as important as medicine, we value a pharmacist that gets to know us, not just someone who fills a prescription."
"My family has known Dr. Yambao for years. My father genuinely looked forward to seeing him at the pharmacy no matter how bad he felt during his fight against cancer. Dr. Yambao's customer service and personal skills are beyond compare. He does whatever it takes to care for a customer or to do the job right. Highly recommend."
We would appreciate your feedback to share on this page of our website. We'd like to let others know what our current customers have to say about Warrington Wellness Rx! Thank you in advance for your time and consideration.